PROGRAMMING FLEXIBILITY You have the freedom to cross traditional boundaries while maintaining consistent results. Those working in glass can fire to specific temperatures. Potters working with crystal glazes can control the cooling side with utmost precision. Sculptors working with thick-walled pieces can program long soaks to prevent cracking. Your approach is no longer restricted by your equipment.
EASE OF PROGRAMMING The sealed touch pad, shown at right, is designed with single function control buttons that are grouped to make programming a snap. There are no special codes to memorize—just follow the prompts. And the KilnMaster will store up to six firing programs in its memory, a convenient time saver.
DURABLE, INNOVATIVE DESIGN Skutt engineers worked for many years to develop an automatic kiln system that could meet our standards of quality and durability. To maintain modular, sectional kiln construction, we designed a control box with numbered leads and a special patented hinge that make it easy to move or repair the kiln. The control box is well insulated to protect the circuitry from heat. If your kiln is not performing properly, the KilnMaster will automatically give you an error message to explain the problem. It will also detect power failures, and resume the firing if power is out for a short period.
Digital Readout. Shows prompts, messages and temperature throughout firing and cooldown.

Touch Pad. Smooth surface pads are easily cleaned, have no moving parts.
Delay Option. Lets you delay start of firing.

Alarm. You can set alarm to sound at any temperature.
Cone Fire Mode. Lets you fire by simply entering the desired Cone number.

Firing speeds. Choose from Slow, Medium or Fast heating.
KilnMaster Control
Features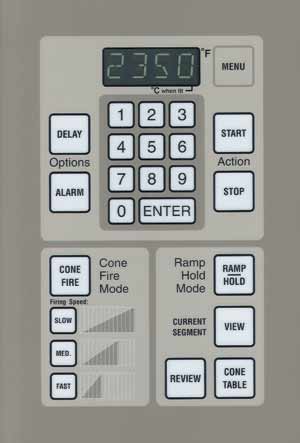 Temperature Scale Selector. Lets you work in degrees F or C.

Action controls. Let you start or stop kiln operation.

Ramp/Hold Mode. Lets you select up to eight segments of temperature change and hold.
View Current Segment. Shows you what Ramp/Hold segment the kiln is currently in.
Cone Table. Converts Cone numbers to temperature.
Review. Reviews your current firing program.