Hinged lid which opens over 90 degrees

-

The new hinged lid design for this style kiln is safer and more convenient than anything else on the market. Lids exposed to kiln temperatures remain extremely hot when they are removed. A hinged lid limits the potential of causing a fire, burning yourself or those working next to you. The lid when in the opened position is safely behind the kiln. The built in stops keep it an angle that limits the radiant heat exposure to the user and still keeps it a safe distance from the table. There is no need to make extra space in your work area to place the lid. Also, the handle only requires one hand to lift so you have the other one free to manipulate the glass. Since it is made of wood and is positioned far enough from the heat of the kiln it does not require gloves to open.
FireBox 8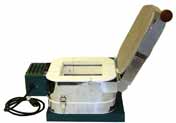 FireBox 8 hinges safely out giving you full access to the chamber and the body of the kiln is buckled to the floor so it cannot get bumped off.