The FireBox 14 Studio Kiln
The GlassMaster LT
The FireBox 14 comes standard with the most versatile 3 button controller on the market. The GlassMaster LT now has nearly all the features of the standard GlassMaster in a compact 3-button controller.
To learn more, go to
www.glasskilns.com/hotstart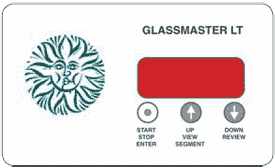 GlassFire Mode Preset programs for fusing, slumping, and tac fusing help beginners start firing the kiln right away
Ramp and Hold Mode
Up to 8 segment programming
Room to store 5 custom programs
Add Time, Add Temp, Skip Segment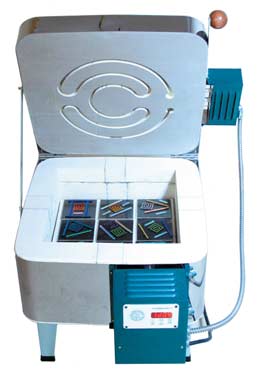 The perfect kiln for fusing glass tiles. The square chamber holds 1 full square foot of 4" x 4" tile.



The FireBox 14 is top fired so it will heat each tile uniformly



The 3 button controller has programming features for the beginner and the advanced artist.



It operates on standard household voltage. Its compact size makes it perfect for the fuser on the move.



The wood handle stays cool making it easy to sneak a peak when the kiln gets to temperature.



Remember to order the FireBox 14 shelf (13" x 14" ).
Download the Fire Box 14 Flyer

GlassMaster LT Controller
Element in lid
Works on standard household current
8" stand
Low Mass Type K Thermocouple
Wood Handle
Operating Manual
2 Year Warranty