Kiln Features
... and much, much, more!
Power Cords and Plugs
Skutt uses high quality Hubbell plugs on all kilns over 40 amps. We refuse to use molded plugs on any kiln that draws over 40 amps. The reason for this is that they run very hot at higher amperages and the failure rate is much higher. The competition uses a molded plug on a 48 amp kiln. Yes, they are less expensive.
Peep Plugs
Our peep plugs are made of high quality porcelain. The holes are coated with refractory cement for durability and tapered so you can twist lock the plugs in. This secure fit prevents them from falling out and breaking.
Instruction Material

• Free Video
• Step by Step for Beginners & Quick Start For Advanced Users
• More Photos and Images
• Website Downloads

Nearly all of Skutt's literature is available to download off of the website. All KM kilns come with a free video that describes step by step how to unpack, setup, program and maintain the kiln. The operating manual has quick start instructions for the advanced user as well as step by step, easy to understand instructions for the begin.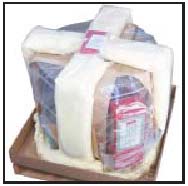 Advanced Packaging
We have been using Expanding Foam packaging with heavy gauge corrugated for over 30 years. This method of packaging forms perfectly to the kiln. It protects the kiln from impact and prevents the kiln from shifting within the box. This means fewer freight claims which we all know can be a severe time drain. If there is a freight claim you can be assured that it will not be declined due to improper packaging.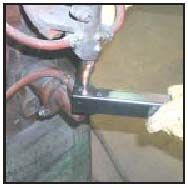 Stand
Our competition claims their "full plate" steel stand reflects energy back into the kiln, saving you money on firing costs and preventing kiln bottoms from cracking. If this is true, every Skutt kiln sold with an Envirovent has been providing these benefits for over 15 years.
Cracking in Bottoms and Lids are caused by the extreme difference in temperature between the side exposed to the heat of the kiln chamber and the side facing out. The side facing the chamber expands at a faster rate than the side facing out and causes the face of the side in the chamber to develop shallow hairline cracks. These cracks do not affect the structural integrity of the slab.
All Skutt stands come pre-assembled. They are constructed using spot welds which are extremely strong and cannot become loose like bolts can.
Corrosion Resistant Materials
Skutt not only uses all corrosion resistant materials, we now go one step further. We now nickel plate all of our handles and latches. Nickel plating is one of the highest forms of corrosion protection available. In fact it is the nickel content in Stainless Steel that gives it corrosion resistance.
Safety Listings
Because Skutt Kilns are so widely used in schools we have to pay special attention to safety concerns. With the exception of a few models, all of our kilns are UL, Canadian UL, CSA and or CE listed for safety. Envirovents are also UL listed when used with a Skutt UL listed kiln. We do not use any asbestos or hazardous fiber materials in the construction of our kilns.
Quality Control
Every Skutt Kiln is fully tested and inspected before it leaves our factory. In the plant, every department is responsible for inspecting the work of the previous department on the line. We realize that mistakes happen. So instead of hiding mistakes we encourage our crew to find them and correct them.
Under Promise and Over Deliver
You may notice that some of our kiln models are rated to slightly lower temperatures, or we may not offer Zone Control on models that our competition may. The reason for this is that we want to make absolutely sure that your new kiln is going to perform to your expectations. Before we rate a kiln, we will fill it with an extra heavy load to simulate real world situations. When Skutt rates a kiln for a certain temperature, you know it will make it time after time after time.
Zone Control
Zone Control is a great feature to have when you need it and the kiln is designed to utilize it effectively and efficiently. Skutt has had Zone Control as an option on the kilns capable of using it for over 3 years.
It Won't Work On All Models
One of the most important things you need to make Zone Control work correctly is power. More specifically you need the right amount of power given the chamber size and insulation. The reason for this is when Zone Control is needed 1 or more sections need to shut off to allow the slower sections to catch up.
This usually works fine at lower temperatures. When you get into the higher temperatures, sections that do not have enough power, will not be able to keep up with the program and the kiln will shut down with an error message.
We choose not to offer Zone Control as an option for our most popular models, the KM1027 and
the KM1227, for this reason.
It's Not Needed For Most Applications
Unless you are working with glass or extremely unbalanced loads, Zone Control is not needed on our kilns because they have balanced elements. Artists, teachers, and hobbyists have been getting great, consistent results with Skutt Kilns long before we ever had Zone Control. For most people Zone Control is just two more thermocouples that they need to figure out how to load a shelf around or replace down the road.



Download a print friendly version.
(PDF format allows you to view our publications electronically on most computers. The freely available Adobe Acrobat reader is required to view and print PDF files.)